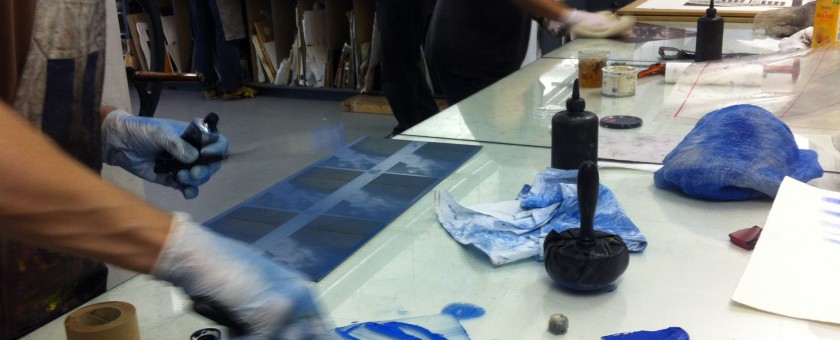 2014 / Jun / 16
A Study in Blue: Below Another Sky Residency at the Glasgow Print Studio
A Study in Blue, the end of amazing residency at the Glasgow Print Studio as part of the Below Another Sky project.
Collaborating closely with the Glasgow Print Studio's Etching Master, Ian MacNicol, apprentice Alastair Gow, and Murray Robertson in the digital suite, the set of 12 photo-etchings that resulted though compositionally quite simple proved to be technically complex. An exhaustive series of tests and experiments were done to arrive at the right dot, dpi, exposure and etch timings so the subtleties of the clouds could be retained. Each of the 12 images after being digitally corrected for contrast etc were printed  onto acetate and then exposed onto prepared steel plates coated with a light sensitive emulsion. Once developed, they were coated with aquatint and etched. Each plate was then printed individually by hand. Below Another Sky is the first collaborative programme developed by the Scottish Print Network, a partnership between Dundee Contemporary Arts, Edinburgh Printmakers, Glasgow Print Studio, Highland Print Studio, Inverness and Peacock Visual Arts, Aberdeen.
always take the weather with you,  is a meditation on this polarity of clouds. Clouds that were photographed over astronomical observatories.